Chichester College Partnership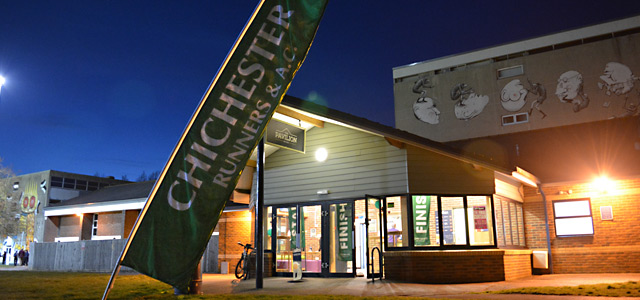 The Club have an exciting ongoing partnership with Chichester College which allows the club to be based at the Sports Pavilion and use of some of the facilities available at the College Sports Centre. The partnership allows the club:
All year round storage for equipment in a dedicated storage area at the rear of the Pavilion.
Use of the new rear studio room on Monday, Tuesday, Wednesday and Thursdays from 6 till 8.30pm for 6 months of the year from October till March.
Use of the studio room for club committee meetings, AGM, social events etc.
Use of the grounds round the college for training.*
Use of the sports hall changing/toilet/car parking facilities on site all year round.*
Use of the Pavilion bar area all year round.*
The club keep the college as a focal point for meeting socially etc. all the year round, not just when we use the studio room in the winter.
Fitness sessions as currently running at a reduced rate.
10 year agreement for use of the college as a base and use of the studio room for 6 months of the year.
The college also offers members a special Corporate Membership deal in the Bodyworks Gym and special rates for Core Stability and Stretch Classes run once a week for members.
*For points 4, 5 and 6 above, it will exclude the use of the college facilities during college teaching hours (e.g. term time 8-5pm).
Details of the Bodyworks offer are set out below.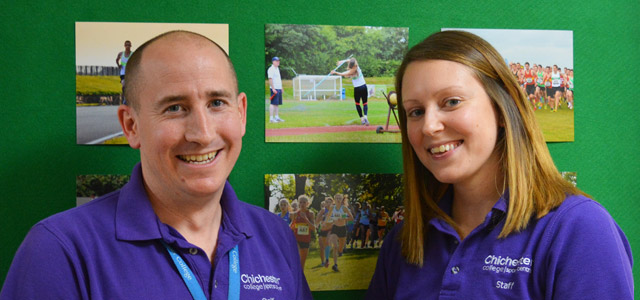 Mark Forder - Sports and Leisure Facilities Manager
Debz Wilson - College Fitness Instructor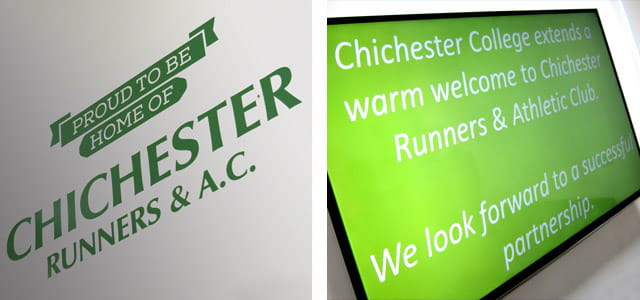 Chichester College Sports Centre's Bodyworks Fitness Suite
Corporate membership rates available to Chichester Runners members.
Click for details
.
For more information on Chichester College Sports Centre click on the links below:
https://www.chichester.ac.uk/the-sports-centre
We will hope to find ways to expand on the partnership with more facilities perhaps with other local clubs involved over the coming months.
We see the Pavilion as a Community Sports Hub which is the view shared with the College who are keen to help promote sports in the community.