Juniors
Junior Running & Athletics
Training is on Mondays and Wednesdays, start times between 5pm and 5.45pm generally, depending on age. This will continue until autumn and is based at the Bishop Otter Campus of the University of Chichester, College Lane, PO19 6PE.
If you are in Year 5 or above and would like to come along and give athletics a go, please first contact the club by email or the contact form. General information and a registration form will be sent to you which must be completed prior to you attending any session. Thereafter, please wait for head coach Andy Hall to contact you, as many new juniors are wanting to join us at the moment. Membership is £30 per year and the cost is £1 per session, currently payable retrospectively via the website, for every 10 sessions.

Our junior section is very successful and competes in several Leagues including:
Indoor Sportshall League
Youth Development League - Under 13 and Under 15
Youth Development League - Under 17 and Under 20
Sussex Under 15 League
Sussex Under 13 League
Sussex Cross Country League

Junior Objectives
It is the aim of Chichester Runners & AC's Junior section to promote all aspects of athletics for children from Year 5 upwards who have an interest in running and athletics.
The club aims to provide appropriate coaching and competition in a wide range of events including all track & field, indoor sportshall and cross country events.
Membership
Membership rates: £30 for juniors of which, if appropriate, £16 is payable to England Athletics. All registered athletes will receive their individual EA competition number direct.
More Information
Code of Conduct for Club Officials and Volunteers
Please contact the club secretary via juniors@chichester-runners.org.uk for a copy the club's Privacy Statement.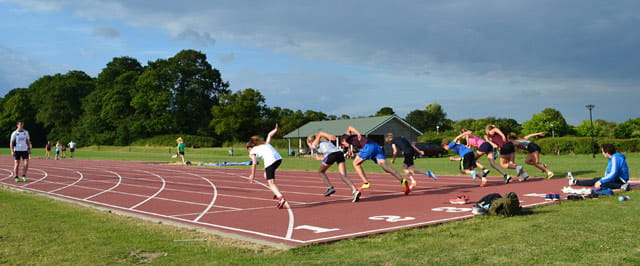 Summer training at Chichester University track