Training
Please note that due to Covid-19 restrictions there are currently no organised club training sessions.

In accordance with Government and EA guidance, we propose to restart training sessions from Monday 29th March.
If you are interested in joining a training group when we restart, please contact the club via Contact Us facility giving a short account of your running aspirations, experience and potential 5k time. This will allow us to offer you as far as possible the appropriate group.
All the club's training sessions are supervised by coaches and leaders who are qualified, licensed and insured by UK Athletics.
Members in a club survey asked for clarification about the objectives of our
training sessions. As such the leaders have produced some guidance as to the general structure and will co-ordinate sessions to provide as much choice as practical. They are detailed below:
Foundation – Mondays at 6.45pm
These sessions are aimed at those who are new to structured interval training and want to improve their speed and endurance. They are designed to give confidence to foundation level runners who can comfortably run continuously for 30 minutes and would expect to take more than 50 minutes to run a 10k. As well as interval training, sessions will also include running drills and some strength exercises designed to improve your running.
Development – Mondays and Wednesdays (Winter Only) at 6.30pm
These mixed ability sessions are open to everyone and are aimed at athletes used to running and racing who are looking for structured sessions to help maintain fitness and improve their overall running. Sessions involve a warm up, a main session, a cool down with stretches and last about an hour.
Event Group- Tuesdays at 6.30pm
Sessions for experienced middle distance and endurance athletes. The coached session typically consists of a brief explanation of the session followed by a group warm up involving dynamic exercises and drills designed to improve your running and to get you ready for the session itself. Current abilities of participants range from about 33 minutes for a 10K through to around 48 minutes for the same distance. Sessions typically last 60-75 minutes.
Thursday – Group Runs at 6.30pm
These runs are suitable for all runners and normally involve at least two different routes and take place at various locations, please see Newsletter for details.
By coming to any of these sessions you will be able to:
improve your pacing

develop different running speeds

improve your running form, strength and mobility
Chichester Runners & AC also run Beginners' courses. During the summer (April to September) the "Wednesday" Development Group is replaced by a series of laid trails of between four and seven miles. The club also holds "Handicap" runs once a month on the first Thursday evenings of each month.
Physical Preparation Sessions on an ad hoc basis. See attachment below for more detail:
Physical Preparation Session
Details of all sessions and the coaches/leaders leading the sessions are published weekly in the club newsletter that is sent to all club members. Please check in the newsletter to ensure you have up to date information. The latest newsletter is available to view on our
News Page
.
Chichester College Sports Centre's Bodyworks Fitness Suite
Corporate membership rates available to Chichester Runners members.
Click for details
.
For more information on Chichester College Sports Centre click on the links below:
Chichester College Sports Centre
More on the club/college partnership can be seen on the Chichester College Partnership page.
There is a 50p charge for parking at the College. However, club members can purchase for £2 from the Sports Hall desk a parking permit.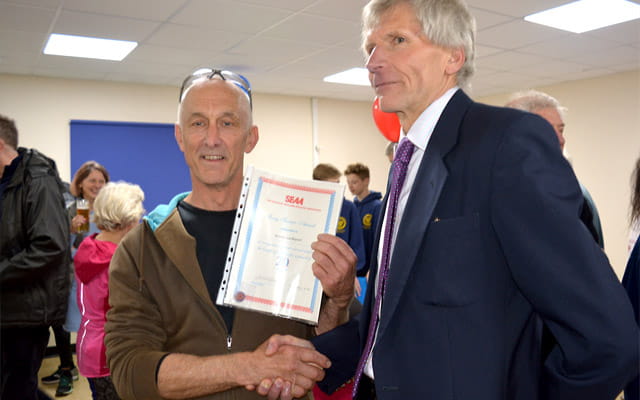 Kevin Lockyear is awarded for 20 years coaching service to the club
Instagram

Follow us on Instagram
Events